Did I ever explain the differentiation between "Fresh Faced" and "In Bloom?" I don't believe that I actually did. Well, basically those that are "Fresh Faced" have not been signed international, those that are "In Bloom" have. Get it? It's really just some trite way to continue the 'fresh' motif, and a wonderful homage to one of my favorite Nirvana songs of all time.

Now back in January or February of this year, before O2W was made public via MDC, I was talking with my friend Julio about Mirte Maas. There wasn't much to share about this 17 year old Dutch girl (from MTA models) at the time, but when I realized that she'd been signed with Supreme in NYC, I figured it was time to profile her. That being said, meet Mirte: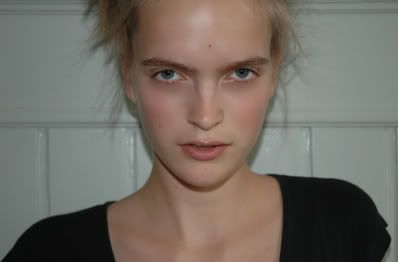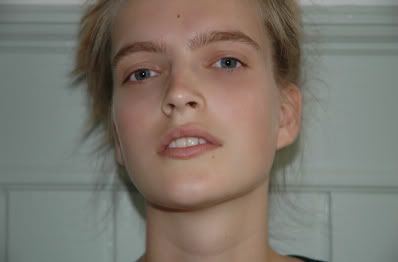 (all images courtesy of MTA for O2W)

Mirte has that rare kind of clean, strong and unusual beauty that always resonates with me (and hopefully the casting directors for CK and Jil Sander). Not to mention that she has some of the most sensational eyes I have seen in a long time. Topped off of course with those Mariya Markina-esque brows. Sure there is a slight Malin Ones comparison to be made, but Mirte succeeds in not appearing dead behind the eyes.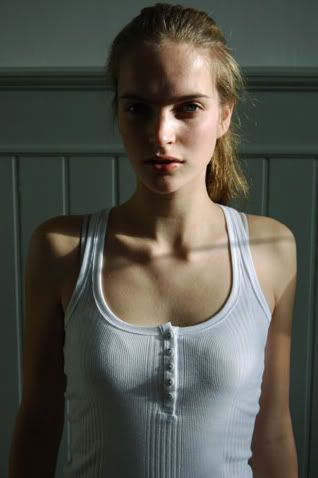 Honestly, how incredible is this girl? Plus with her 5'10" frame and 31.5-24-35 measurement, Mirte could be a wonderful addition to the Supreme board in time for the S/S 09 show season. I love it when the communicative aspect of fashion, which equally entices and informs, leads to such beautiful personal discoveries. Thanks to the entire team at O2W for providing me with more information on this truly sensational face.

Edited To Add: After all the craziness since profiling Mirte, it remains to be seen if she's actually signed with Supreme. That piece of information was taken off of her O2W profile an hour after this post was made. Either way, I stand behind Mirte's potential and hope that someone will sign this girl soon enough in NYC.